EXPORT POLICY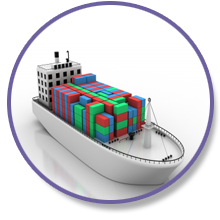 Leading Exporters of Indian Foodstuff and Provisions. Our immense belief in the philosophy of "GOOD SERVICE IS GOOD BUSINESS" is our top priority. Export of Indian Foodstuff has enabled us to reach millions of homes and making INDIAN available throughout the world.
Shipping Policies
Upon receipt of advance payments / documents against payments, the following can be dealt with:
Goods will be shipped from our Mumbai, India or local public warehouse.
Special arrangements for specific loads can be arranged with proper prior notice.
Tie-up with manufacturers for mix load shipment.
Country of Exports:
AUSTRALIA
BAHRAIN
CANADA
CANARY ISLANDS
CHILE
CHINA
CURACAO
DENMARK
FIJI
FRANCE
GERMANY
GIBRALTAR
HONGKONG
INDONESIA
ISREAL
ITALY
JAPAN
KENYA
KUWAIT
MALAYSIA
NETHERLANDS
NETHERLAND ANTILLES
NEW ZEALAND
OMAN
PHILLIPINES
PORTUGUAL
QATAR
REUNION ISLANDS (FRENCH ISLANDS)
SAUDI ARABIA
SEYCHELLES
SINGAPORE
SOUTH AFRICA
SOUTH KOREA
SPAIN
SWEDEN
SWITZERLAND
TAIWAN
TANZANIA
THAILAND
TRINIDAD & TOBAGO
UGANDA
UNITED ARAB EMIRATES
UNITED KINGDOM
UNITED STATES OF AMERICA
WEST INDIES
YEMEN